Since 2014 it is published in English under the new name BRQ-Business Research Quarterly.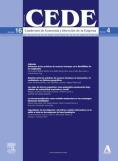 Cuadernos de Economía y Dirección de Empresas.
Former Editors:
Lucio Fuentelsaz Lamata. University of Zaragoza.
Ana I. Fernández Álvarez. University of Oviedo.
Juan José Durán Herrera. Autonomous University of Madrid.
Description
The CEDE journal published by ACEDE since 1998 seeks to provide a forum for channelling the dissemination of papers and theoretical, methodological and empirical studies on specific areas of Business Management and Economics, thereby fostering knowledge-sharing in these fields, as well as providing a stimulus for future research and development in business knowledge and related matters.
Access Issues from 2007 to 2013
Access Previous issues
Classification: Economy and Business; Business Administration
Audience
Researchers, students, and managers interested in economics and business management.
Indications of quality
CEDE is indexed in the following databases and catalogs:
SSCI - Social Science Citation Index.
SCOPUS - Elsevier Bibliographic Databases.
EBSCO Publishing´s Databases.
LATINDEX - Online Regional Information System for Scientific Journals from Latin America, the Caribbean, Spain and Portugal.
REDALYC - Scientific Information System. Network of Scientific Journals .
DICE - Difusión y Calidad Editorial de las Revistas Españolas de Humanidades Ciencias Sociales y Jurídicas, CSIC-ANECA.
DOAJ - Directoy of Open Access Journal.
DIALNET
IN-RECS - Impact Index of Spanish Social Science Journals. Impact Index 2007: 0.171 (position 19 of 123 journals).